Customer Service Training
Improving the Most Crucial Aspect of Your Business
The service industry is built on customers, and great customer service can make or break your business. What many companies fail to realize, however, is that great customer service begins with streamlined Standard Operating Procedures (SOPs).
Kathy Nielsen's customer service Boot Camps focus on creating individualized solutions and strategies to improve customer service. Participants learn how "consistency builds accuracy"—by creating a series of processes across the board and putting them in writing, everyone from Customer Service Representatives to techs to Office Managers knows exactly how to efficiently and effectively handle any situation that may arise.
Some of the benefits of customer service training include:
Improved self-confidence and skill of individual employees
Increase in customer loyalty and word-of-mouth marketing
Lower employee turnover rates
Clear, streamlined business processes and procedures
Focus on SOPs, call scripts, and overcoming communication barriers
Increase in revenue and the bottom line
Having worn many different hats over the course of her 20 years in the service industry, Kathy—"The Chicken Lady"—understands that every business is different. Because of this, she works with you to provide answers that work for your business. She offers insightful solutions and straightforward strategies for creating consistency in training and eliminating vulnerability in your company.
Ready to Revolutionize Your Business?
Check out Kathy's upcoming events to see if she is speaking in an area near you!
When you leave the customer service training and return to your shop, you'll have clear, written answers and a step-by-step guide on how to start initiating customer service practices that will improve your business. Kathy strives to ensure that every one of her clients leaves feeling confident and that all of their questions and concerns have been handled. Her customer service training and various business development consulting services cover every aspect of business management, including the often-forgotten spoke in the wheel, operations.
Book a customer service training course with Kathy; call Operations Excellence at (515) 293-4834 or submit an online contact form to learn more.
Why Work With Us Operations Excellence?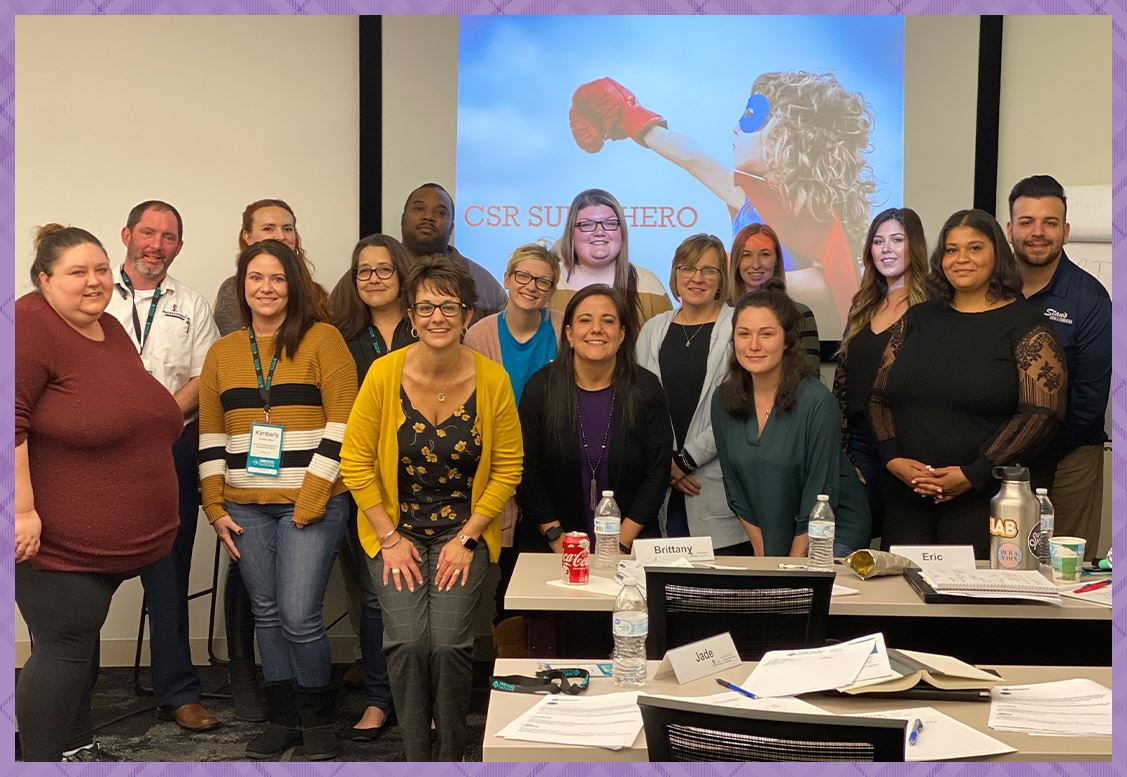 A Solutions Oriented Approach

Kathy understands that every business is different and is here to help you figure out the best solutions for your business.

A Reputation That Speaks for Itself

Kathy's clients rave about her training. From her personable and down-to-earth approach, to her relatable real-life experience.

A Woman in the Industry

Kathy has worn many hats in the industry, from CSR all the way up to General Manager, including HR and training techs on new technology.
"Kathy is great! The CSR Superheros bootcamp she put on was a great experience. It was full of very great information."

Mandi K.

"Kathy is engaging, relatable and knowledgeable. She brings a level of professionalism along with a great deal of first-hand experience in the service industry adding to her overall credibility. I felt empowered and armed with actionable items ready to be i"

Misty R.

"I just came back from attending Kathy Nielsen's CSR Superhero Boot Camp in Dallas Texas. I have to say after attending the boot camp I have a completely different outlook on how to interact with my customers."

Amy H.

"We hired Kathy to come shortly after going live with Service Titan to ensure we knew what we were doing and show us some new best practices when it comes to the software! We got that and more!  We could not have had a better 3 day session with Kathy and if"

Kenneth W.

"Kathy's ability to connect with a wide range of personalities adds tremendous value to her training. She is able to share information in a way where it can be absorbed and implemented immediately. Kathy is an incredible trainer!"

Andrea S.