Business Development Services
Transform Your Business with Kathy Nielsen
If you're interested in growing and expanding your business, improving the management and leadership skills of your team, streamlining day-to-day operations, and transforming every unique aspect of your company, Kathy Nielsen is here to help. Known fondly as "The Chicken Lady," thanks to her "team" of five chickens, Kathy is an accomplished and renowned business development consultant and service industries expert. Her in-depth employee and leadership coaching, insightful speaking engagements, and hands-on training sessions help service industry professionals and companies of all sizes pinpoint weaknesses and successfully resolve them. Kathy is passionate about providing services that truly benefit HVAC, plumbing, electrical, and other service industry contractors and business owners.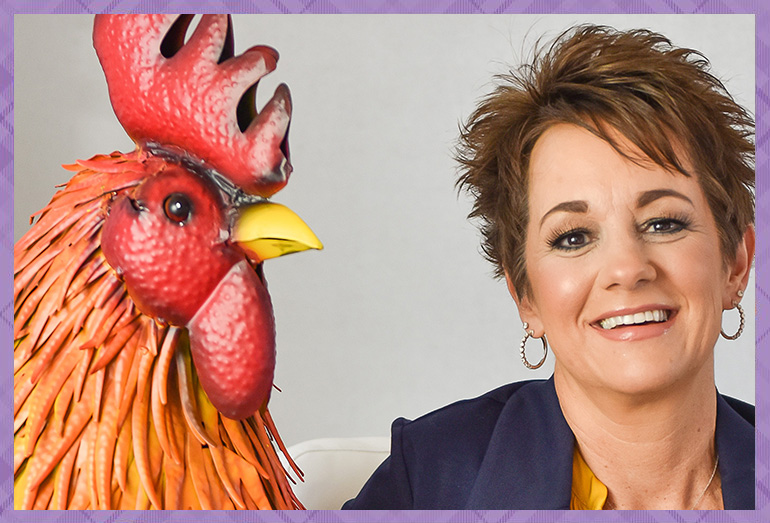 Contact Operations Excellence at 515-293-4834 to schedule any of the following:
Onsite Operations Consulting: Receive hands-on tactical help streamlining the tasks your office does. This includes, but is not limited to, ServiceTitan and Quickbooks.
Boot Camp: A two-day intensive course that takes ordinary Customer Service Representatives and turns them into CSR Superheroes. Participants receive hands-on training, on-call script creation, handling common types of calls and customer complaints, and call cycle systems. Participants also receive Innermetrix ADVanced Insights evaluation.
ServiceTitan Extreme: This two-and-a-half-day course includes valuable training on ServiceTitan and QuickBooks—without needing to hire an onsite expert. Participants will return with all of the tools they need to train others on processes and procedures and, as a bonus, will receive an evaluation using the Innermetrix ADVanced Insights profile, as well as a follow-up webinar.
Customer Service Training: Great customer service is at the core of every great business. In this course, Kathy provides your team with valuable insights and extensive customer service training to improve client retention and satisfaction—and transform your business.
Leadership Training: take a seat at The Leader's Table and learn what you need to lead your team to success. The Leader's Table is a 3-hour intensive on essential leadership concepts and skills, and a 30-minute one-on-one follow-up with our leadership expert, Lauren Schieffer.
Leading the Trades:

This ongoing leadership incubator meets for one hour as a group twice a month, and is designed for those committed to continual growth. As a result, you will be more focused on what matters every day, lead with compassion and integrity, and you'll create and model standards of excellence others will aspire to and follow.
Speaking Engagements
Kathy is passionate about helping businesses transform and grow. She ensures that clients receive huge value from her services by providing answers to all of their questions, as well as clear, step-by-step summaries and straightforward plans of action that they can take back to the shop and initiate immediately.
In addition to her training sessions and educational operations courses, Kathy frequently speaks on a range of business development topics.
These topics include:
The New Kids on the Block: Millennials – Right now, there are more generations in the workforce than ever before. What does this mean for your business? What are the newer generations looking for, in terms of company culture and workplace satisfaction? How can you keep up with these expectations by hiring and retaining Millennials while still growing your business—and how can this benefit your company?
The "Hit-by-a-Truck Theory" – How can you ensure that your business will continue to run, even if someone suddenly leaves or is no longer able to perform his/her duties? Kathy's hit-by-a-truck theory helps you develop strategies ranging from training consistency to eliminating company vulnerability to make sure your business runs as usual—even if someone is hit by a truck.
Who "Sees" You—and What do They See? – Kathy asks you to take a good (and sometimes tough) look at your company: how do your customers see your business? What about your employees? You'll learn how to build a company culture and business reputation that causes people to seek you out in one of the most competitive industries in the nation.
Building the Best Flock – How do you know that you're hiring the right people and that the people within your company are on the right "seat on the bus?" Kathy will teach you how to identify common hiring mistakes, evaluate your employee's skills, and use this information to make changes that transform your business.
With more than two decades of experience in nearly every aspect of the service industry, Kathy understands what it takes to grow and develop a successful HVAC, plumbing, electrical, or other service industry business. She's been in the shoes of Customer Service Representatives, Bookkeepers, Office Managers, and GMs—and she knows how to provide each of these people with the tools, resources, and knowledge they need to take your business to the next level.
"Kathy is great! The CSR Superheros bootcamp she put on was a great experience. It was full of very great information."

Mandi K.

"Kathy is engaging, relatable and knowledgeable. She brings a level of professionalism along with a great deal of first-hand experience in the service industry adding to her overall credibility. I felt empowered and armed with actionable items ready to be i"

Misty R.

"I just came back from attending Kathy Nielsen's CSR Superhero Boot Camp in Dallas Texas. I have to say after attending the boot camp I have a completely different outlook on how to interact with my customers."

Amy H.

"We hired Kathy to come shortly after going live with Service Titan to ensure we knew what we were doing and show us some new best practices when it comes to the software! We got that and more!  We could not have had a better 3 day session with Kathy and if"

Kenneth W.

"Kathy's ability to connect with a wide range of personalities adds tremendous value to her training. She is able to share information in a way where it can be absorbed and implemented immediately. Kathy is an incredible trainer!"

Andrea S.
Ready to Revolutionize Your Business?
Check out Kathy's upcoming events to see if she is speaking in an area near you!