ServiceTitan Extreme
Streamline Your Field Service Management
Many HVAC companies use ServiceTitan Software to manage field services, booking, scheduling, invoicing, and more. However, many businesses fail to fully utilize ServiceTitan to their advantage. In fact, many business owners, GMs, CSRs, Bookkeepers, and others have not even received proper training on ServiceTitan.
Kathy Nielsen's ServiceTitan Extreme course is a two-and-a-half-day intensive training course for service industry professionals who use ServiceTitan on a daily basis. Designed for all levels—from Office Managers to GMs, Bookkeepers to Customer Service Reps—the course covers everything you need to know about accomplishing necessary tasks through ServiceTitan and QuickBooks. More importantly, Kathy reveals how to accomplish these tasks in the most efficient and effective way possible.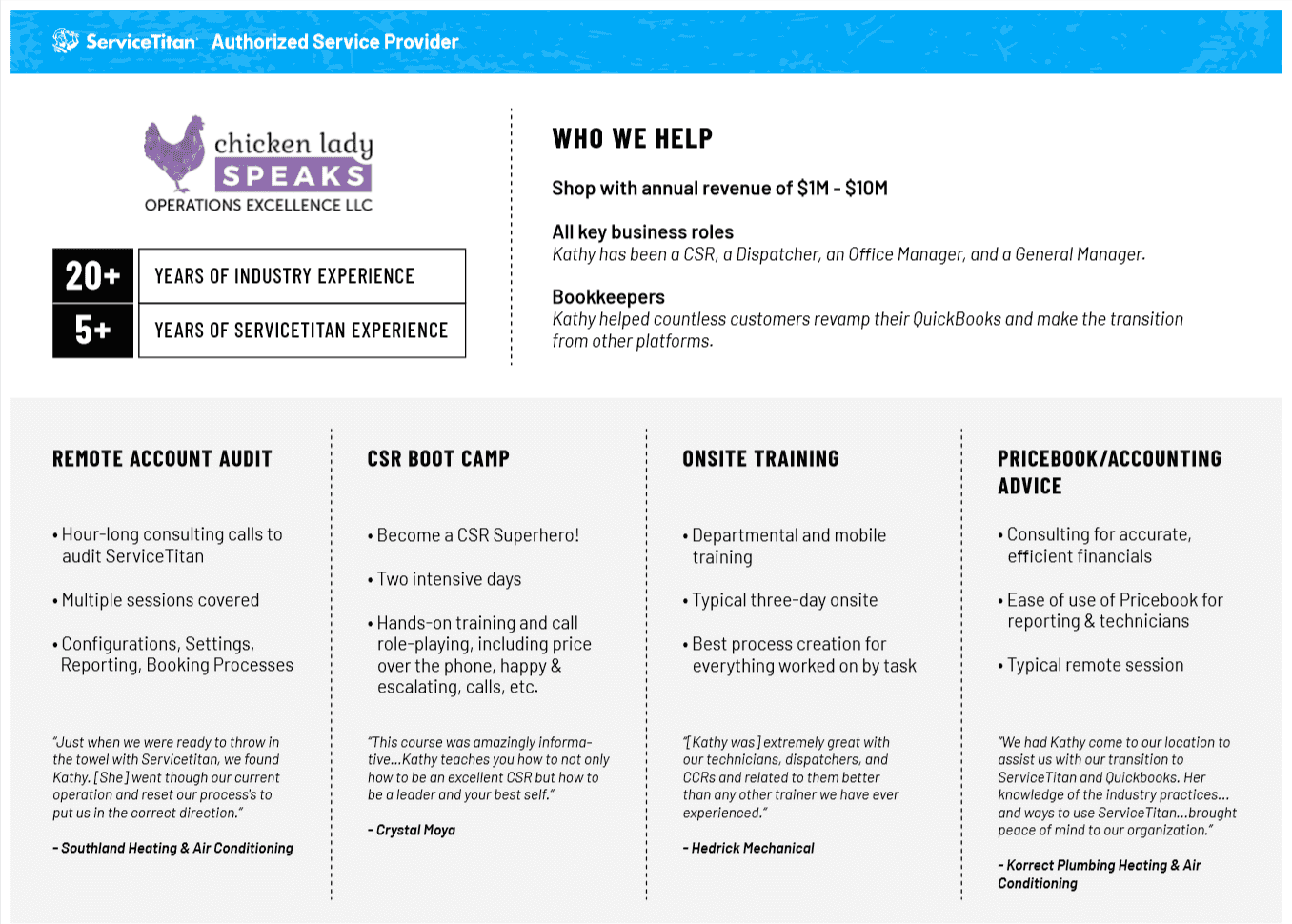 Benefits of the ServiceTitans Extreme course:
Receive extensive, hands-on ServiceTitan training without having to hire an expensive, on-site consultant.
Obtain the information you need to establish Standard Operating Procedures to improve efficiency and streamline day-to-day operations.
Return to your shop with procedures and processes clearly laid out in writing, ready to teach others the way you want to do business.
This course is designed for professionals who use ServiceTitan to accomplish daily, weekly, and monthly tasks and who have the authority to institute changes and determine best business practices for the company. Participants will receive guidance from Kathy, backed by over two decades of personal experience in Office and General Management.
What you'll need for this course:
A laptop
Chart of Accounts from QuickBooks
Payroll information (e.g. How are techs paid? Hourly? Commission? Bonuses? Etc.)
Participants are also encouraged to bring a list of items they are currently struggling with, including any issues with ServiceTitan, QuickBooks, or general operations.
Personalized, Tactical Solutions
Kathy's goal with each of her services is to ensure that every participant has all of their questions answered and leaves feeling confident in their ability to enact better business practices. Each course, including the ServiceTitan Extreme program, is tailored to the unique needs and goals of each particular business. Kathy is here to help you figure out what is the best way for your company—because every company is different and every company has different hurdles and solutions.
Contact Kathy Nielsen, "The Chicken Lady," to learn more. Call (515) 293-4834 or contact Operations Excellence online.